Chapter 11
Previously on the GUCCI challenge:
Andrew found out about Ion's infidelity and moved out, taking his son Asteroid with him. Ion moped a lot. Andrew tried to move on with his life but found it hard. His and Ion's daughter, Idalee, eventually got the two of them talking again. Things were beginning to maybe warm up. And then Ion's father Phoenix died, and Ion turned to the only person who could really help. He and Andrew ended up kissing in Andrew's front garden.
Warning: this chapter may contain material some people find offensive.
(
that totally means you're gonna read it, right?
Collapse
)
I have not updated in FOREVER. I am a bad, bad person. However, I come bearing a new Ishkabibble Episode - finally! Though this time is sadly a short one.
idiosyncra_sims
challenge!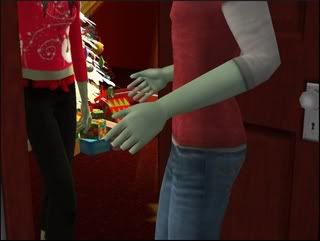 The doorbell rings and my stomach flutters. It's him. Adam. I smooth down my shirt, pat my hair, and pretend that I haven't spent three hours putting together a "casual" look. We have been friends for years, but he's never seemed to realise that I love him. I open the door...
(
O Come All Ye Faithful
Collapse
)
Normally I try to make stories with lots of plot. But, as it's Christmas, what better time to have a thin plot used as an excuse to have pretty people get it on? Anyway, I hope you will find that the following increases your Christmas cheer! Not suitable for the underage, and definitely not safe for work. Also an excuse to bring out Nimue du Lac, who recently featured in the
Previously...



Ion betrayed his husband Andrew with their neighbour Ben Long... And immediately regretted it. What repercussions will there be of this dangerous afternoon of passion?
(
drama ensues
Collapse
)
simstorytellers
! Go
here
to ask me questions. Go on, make me look popular! Please? :)
I'm being storyteller spotlighted on
http://www.livejournal.com/poll/?id=845885
It would be fun to get past the first round! I know there were far superior contestants, but I also think I did quite a good job, so if you think I deserve a vote, I'd appreciate it!
If you liked my recent tarot card post, vote for Nimue (and any other ladies you liked!) here: